Falling for Fall
Summer is a fun time for produce, with interesting melons, cherries, peaches, plums, and other drupes being available only at that time. But the truth is that I've been waiting for autumn to arrive the entire time.

Many fruits and vegetables need the full season of the sun and heat of summer to grow, and are only then harvested when we reach the end of the season. While expensive imports are very much an option these days with some produce, many items we just wont see until fall begins. Another reason why some foods are missed out on during the summer months is because most people are reluctant to turn on their ovens, opting instead to eat light or go out for meals.

So, fall produce is finally upon us! I was holding off on doing another blog until I was able to get my fall reset in place. Washington Apples are back with another season of wholesome, crisp, and juicy treats in an assortment of taste and colors. From the Red Delicious and the Granny Smith to the more striking Honey Crisps, Macouns, Royal Galas, and Fugis, the aisle is PACKED OUT with your all of your favorite apples!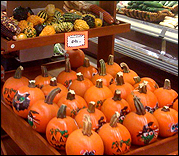 We're only at the beginning, but aren't you already thinking of Thanksgiving, football, and buttery baked potatoes and yams? I know I am. Before you know it, we'll be deep into the winter holiday season, which is the prime time for most of the sweet citrus fruits. We should be switching from Valencia oranges to Navels any time, and that means mineolas, tangerines, and then Clementines are right around the corner. But for now, we already have a new assortment of winter squash, gourds, Indian corn, and painted-face pumpkins. And my very favorite - caramel apples! So come in and enjoy, and get as excited as I am over the forthcoming fall season!